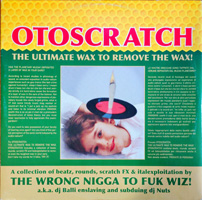 -Bel.03 "Otoscratch: The Ultimate Wax To Remove The Wax !" by THE WRONG NIGGA TO FUK WIZ!
by
11 Giugno 2010
Has the planetary muzak deposited a layer of wax in your ears?
According to recent studies in phisiology of sound, an extended exposition to audio-valium experience such as goa-trance – the last crime against humanity! -, sleep'n'bass sorry I meant drum'n'bass tun cha tun cha tun cha and strictly 4/4 zombie hard-tekno causes the formation of a layer of wax in the ears of the listener. Not to mention other dangerous expressions of planetary muzak like newly forged grime, what is it? Ask some trendy music mag wanker or sound-art that is I put a jack up my asshole and listen to its minimal vibration PRRRRR this so interesting, a premodern deconstrucion of tones theory, but you must wear spectacles to fully appreciate this avantgardism.
Do you want to take possession of your faculty of hearing once again? Are you tired of this partial perception of the sonic world induced by the audio-valium? Try OTOSCRATCH, THE ULTIMATE WAX TO REMOVE THE WAX. Otoscratch includes a collection of breaks, scratch FX and italexploitation to remove even the toughest wax in your ears. Don't take my words for it folks, TRY IT!
released January 1, 2006
get your digital copy here: