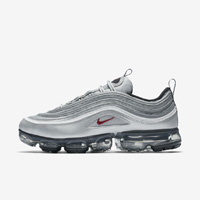 NIKE SPONSORED US WITH ONLY A PAIR OF LE SILVER!
by
13 Gennaio 2018
RICCARDO BALLI, DJ
I can remember that you had kids turning up wearing AM97s for both the hip-hop and the hardcore nights. As an observer from the decks I thought that the AM97s were much better suited to the hardcore scene where everybody had a very clean look, was very aerodynamic, with their shaved heads and 180 + BPM music and their whole cult of synthetic velocity.
I remember looking out at the crowd of Italian gabbers dancing wearing silvers and being instantly reminded of Italian Futurists — the first real avant garde group of the 20th century — and their descriptions of New York, which more than descriptions of a city with manifestations of how Italians viewed the future. And I remember thinking how perfectly this Nike shoe meshed with the particular flavor of Italy's love for the future, which seems to have remained identical, in the nation's DNA, for over one hundred years.
Furthermore on pretty much the same subject there's been this contribution of mine to this volume: "Le Silver: an Italian oral history of Nike Air Max 97" (Kaleidoscope)