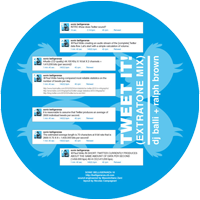 S.B.10 "Tweet It ! (Extratone Mix)" Dj Balli + Ralph Brown
by
24 Giugno 2012
1) INTRO # How does Twitter sound? 2) @Paul Virilio creating an audio stream of the ]complete[ Twitter dataflow. Let's start with a simple calculation of volume: 3) # Audio (CD quality) 44.100 Khz X 16 bit X 2 channels = 1.411.200 bits(per second)! 4) @Paul Virilio having compared most reliable statistics on the number of tweetsper day 5) it is reasonable to assume that Twitter produces an average of 2600individual tweets per second. "
Tweet it!(Extratone mix)
" S.B. picture-disc vinyl
12″ picture-disc 180 gr

[For shipment price contact balli333@gmail.com]

6) The estimated average length is 70 characters at 8 bit rate that is 2600 X 70 X 8 = 1.456.000 bits per second!
7) @Paul Virilio IN SHORT: TWITTER CURRENTLY PRODUCES ABOUT THE sameAMOUNT OF DATA PER SECOND (1.456.000 bps) AS A CD PROVIDES PER SECOND
8> According to Isaac Hepworth, product partnership @ Twitter "In a sample of a million tweets sent from twitter.com on 3 January 2012, the mean length was 67.9 characters."
9) for a matter of simplification, let's fix 70 characters as tweet's average length [as in side A]
10) 70 micron is also about the size of grooves containing audio information on vinyl, not to mention 70 decibel which roughly indicates wax dynamics!
11) finally, about 70 rounds of a 45 rpm 12″ like this are necessary to complete each audio-tweet of 1 minute 40 seconds length
12) [it's true on "Tweet it!" there are also INTRO and OUTRO which only last 14 seconds and are not 140(0) bpm)
13) @ Paul Virilio this record is an audio transposition of Twitter informational stream, whose dromology appears to be numerically connected (140, 70, 14, etc.) to cd and vinyl format.
14) OUTRO #How does Twitter sound?
"Tweet it! (extratone mix" also available in new customized version #vinylclock price 30 euro.
[for shipment price contact balli333@gmail.com]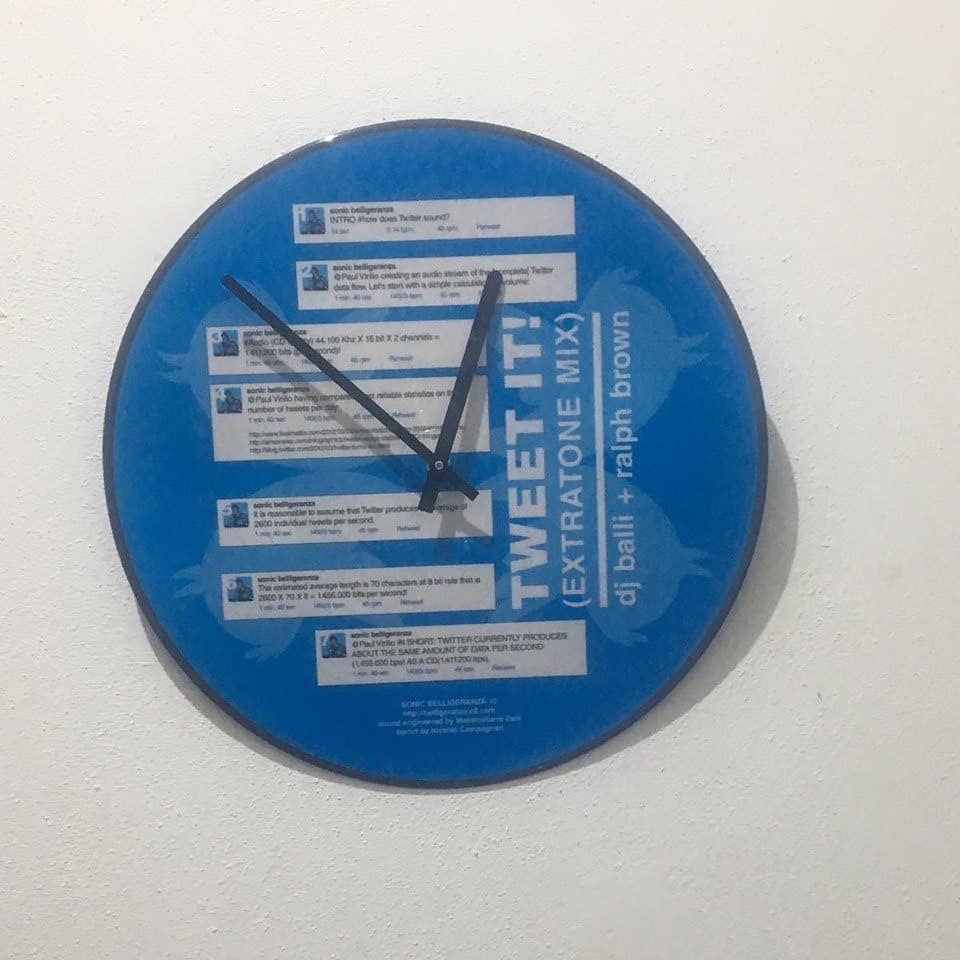 GET YOUR DIGITAL COPY HERE: